It is that time of year again where we acknowledge and celebrate Black culture for an entire month! This Black History Month feels a bit different since, in 2020, we were faced with a racial inequality awakening that really ignited a fire in a lot of people's minds and hearts. This month, we thought it would be great to showcase Black History Month blog post series where we recognize and celebrate Blackness in our community. 
Throughout the month of February we will be sharing Black Art, Black Books and Black Community.
This month we wanted to share an artist who is a part of our KDL family -- Roy Robinson. 
Roy Robinson is the security guard at our Kentwood Branch. Most, if not all, of our regular patrons are familiar with him and enjoy conversations with him. He also is an artist -- or how he puts it, a 'color theorist.' He really enjoys painting and how it gives him an opportunity to learn and do some research on history, mainly Black history. His paintings are usually portraits of Black people who have made a difference for their community. He uses his art as a way to learn and teach others about the influence that Black people have on the community.
"I have been collecting artworks for over seventeen years pertaining to the African Diaspora. I have also sold or donated my collections to African American Museums. Afrocentric artworks have increased in value greatly. So I decided to create my own images of Black America success and struggles through my personal interactions. The reason I paint Black people is very simple: Homage! The great singer James Brown recorded a song named 'Say it Loud I'm Black and I'm Proud!' I am very aware of the injustices and deserve to be rendered to people of color all my life. So it motivated me to help start the James Jackson Muskegon County African African Museum in Muskegon Heights, Michigan."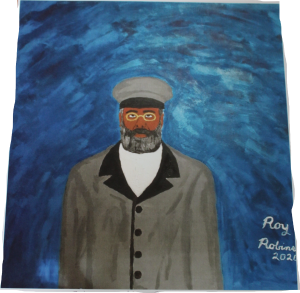 Image 1 (left): Portrait of Nelson Stevens, AfriCOBRA member (African Commune of Bad Relevant Artists) and Artist.
Image 2 (middle): Portrait of Abbey Lincoln who was a jazz artist & actress singing to Max Roach who was jazz drummer.
Image 3 (right): Portrait of Elijah McCoy who was an inventor and engineer of 57 US-patents mainly focusing on the lubrication of steam boats.
BLACK ARTS MATTER.