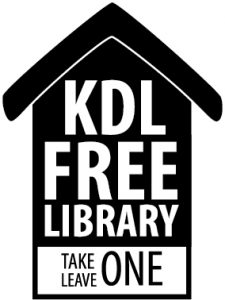 Through partnership with both organizations and patrons, KDL supports Free Library projects all over Kent County. These mini-libraries typically house around 40 books each, including youth, teen and adult fiction and nonfiction materials. People are encouraged to take a book and leave a book.
Contact us for more information about how to set up and/or maintain your project.
Alpine Township Sports Complex
1850 Alpine Church Road, Comstock Park
Bethany Christian Services
901 Eastern Ave NE, Grand Rapids, MI 49503
Creekside Park
1698 Gee Dr., Lowell
Gaines Township Offices
8555 Kalamazoo Ave., Caledonia
Gerald Ford International Airport (Concourses A and B)
5500 44th St SE, Grand Rapids
HealthBridge Post-Acute Rehabilitation
2060 Health Drive SW, Wyoming
John Collins Park
650 Lakeside Dr. SE, East Grand Rapids
Kent City Pavilion
32 S. Kent St., Kent City
KDL Service and Meeting Center
814 West River Center Drive NE, Comstock Park
Lee Street Park
Corner of Lee St. & Homewood St., Grandville
Mill Race Park
3370 Carlton Park, Grandville
Paul Henry Thornapple Trail
111 Mill St. SE, Caledonia
Pine Rest Freedom House
160 68th St., Grand Rapids
Plainfield Township
6161 Belmont Ave. NE, Plainfield Township
Plainfield Senior Center
5255 Grand River Dr. NE, Grand Rapids
Reflections Salon
2650 E Beltline Ave SE Suite H, Grand Rapids, MI 49546
Riverside Drive
718 Riverside Dr., Lowell
The Rapid Bus Station
250 Grandville Ave SW Grand Rapids, MI 49503
Senior Neighbors
314 S Hudson St. SE, Lowell
Spencer Township Branch
14960 Meddler Ave., Gowen
Treetops Collective
906 Division Ave S, Grand Rapids, MI 49507
Walker Complex playground
4151 Remembrance Road, Walker
York Creek Community Center
3999 Alpenhorn NW, Comstock Park
About Little Free Libraries
For more information on the Little Free Library movement and for a map of Little Free Libraries around the world, visit the Little Free Library nonprofit website.