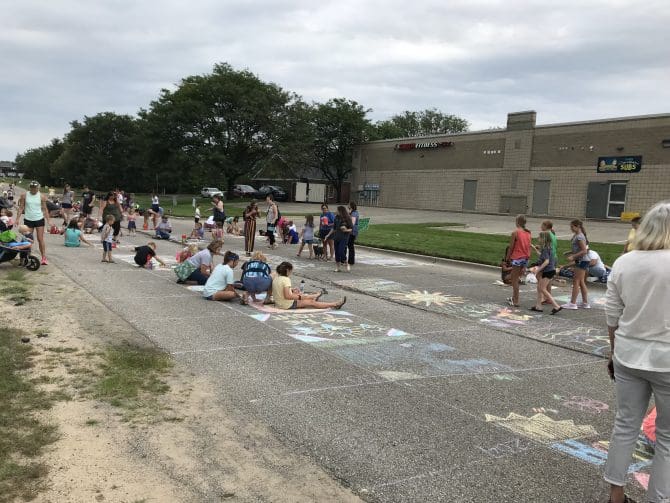 By Audrey Barker, Branch Librarian at the Caledonia Twp. Branch
On August 6, hundreds of artists of all abilities descended into Caledonia for a large-scale chalk art project. The art was heartfelt. People were sharing their stories via pictures. There were so many words of encouragement, as well as celebrations for earth, birthdays, pets, family, books, friends and SpongeBob. The joy was in the air, but sadly, so was the rain. We were nearly halfway to our goal of 945 drawings when the rain started. But being that so many were so full of joy, a small crowd danced in the rain together.  
 The dream was to bring people together in joy and celebration, hence the name of the event 'Something to Celebrate.' The secondary dream was to earn a Guinness World Record for 'Largest Display of Chalk Pavement Art.' KDL was not only entirely supportive of the endeavor, but even purchased nearly 16,000 pieces of chalk for participants to use. The secondary goal turned out to be a pipedream, but it is with a full heart we can proudly say the first, most important goal was achieved. 
Although we didn't earn the Guinness World Record title, we were elated to bring people together. So much has pulled people apart, and simple chalk worked as a glue to bring us back together. We have an amazing amount of chalk remaining and we hope to try again next year! Thank you to all who participated. Thank you to those from around the world who were messaging us encouragement, support and drawing ideas. Thank you to KDL for making it equitable for all to participate in. What a celebration it was!