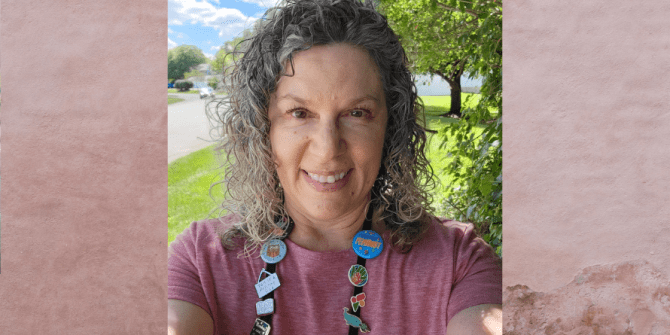 Meet Susan. She is a Branch Outreach and Programming Specialist at the Plainfield Twp. and Comstock Park Branches. She does a lot of youth librarian tasks, but she also coordinates the programs and the outreach they do at the two branches. She's part of a KDL-wide team that sets goals, plans training for staff and looks at program proposals for future events at KDL. 
"Even after thirty years with KDL, I still love my job," said Susan. "I have great coworkers, and I never cease to be amazed at the talent and creativity of the KDL staff. I especially love doing storytime, as well as the everyday interactions with library visitors. After we were closed, it was lovely to catch up with patrons I hadn't seen for a very long time."
Let's get to know Susan a little bit better.
One of my heroes is...
Irene Gut Opkyke. I heard her speak once, and she was amazing! She wrote a great memoir (called In My Hands) about how she was left for dead by the Nazis in a Polish forest, but recovered and became the "housekeeper" to a high-up Nazi official. She used his house and barn to hide and smuggle many Jewish people to safety. Her courage was breathtaking.
If I could meet one person dead or alive, I'd meet...
Either of my grandmothers. They both died long before I was born, and I'd be thrilled to sit down and have a conversation with either one of them.
The talent I really wish I had is...
The ability to dance well. My body just doesn't move that gracefully! Even in exercise class, I'm always the person going left when everyone else is going right. 
When I was a child, I wanted to grow up to be...
An elementary school teacher, but only because I adored my second grade teacher. I think my career as a librarian was meant to be. I got into trouble in third grade for not doing my work during class. Instead, I put it into my cubby and gathered a group of classmates behind the piano to read to them.
If I ever wrote a book, it would be called...
Middle School, the Nightmare: It Gets Better.
Thanks so much for being such an awesome member of the KDL Team, Susan!