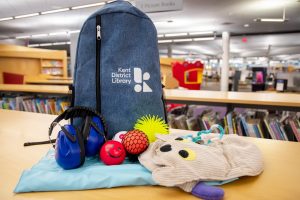 Because we care about the well-being and comfort of our patrons, we offer Sensory Packs. These bags contain items that can help someone needing sensory accommodations.
Contents include a weighted shoulder wrap, sensory toys, headphones and more. The bags are for in-branch use only.
"We strive to make KDL a welcoming space for everyone, and our new Sensory Packs will provide much needed accommodations to our patrons with sensory issues that will improve the quality of their library experience," said Shelley Roossien, Accessibility & Inclusion Specialist.