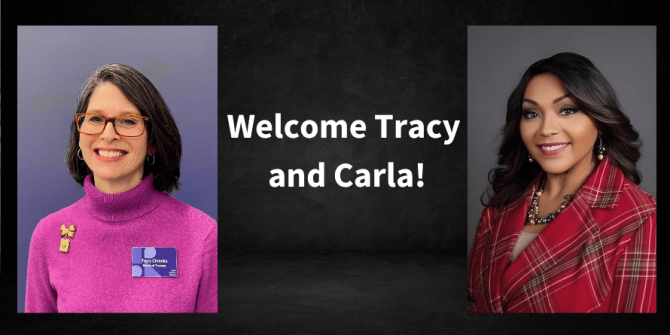 Carla Moyer Hotz and Tracy Chrenka have been appointed to the Board of Directors of the Kent District Library by the Kent County Board of Commissioners. Moyer Hotz represents Region 5, which includes the City of East Grand Rapids and Ada, Cascade and Grand Rapids Townships. Chrenka represents Region 1, which includes Nelson, Oakfield, Spencer and Tyrone Townships. Their terms will last through 2026.
Moyer Hotz's career in libraries began 25+ years ago, when she reentered the workforce after her children started school.  Most of her career has been spent on the frontlines of customer service at MADL, GRPL, and presently 16 years at Calvin University's Hekman Library.  She enjoys travel, sewing, singing, real estate and making new friends.
"Libraries are the cornerstone of every community and I'm delighted to have this opportunity to serve the citizens of Kent County with my commitment to quality library services.," said Moyer Hotz.
Chrenka lives in Tyrone Township on a hobby farm. When not spending her days teaching middle school students, she likes to read, bake and reupholster furniture. She also wrangles her family's 50+ chickens, several beehives and devises ways to keep rabbits out of her garden. Chrenka has a Masters in Library Science from the University of Michigan and was a school librarian for 23 years.
The eight members of the KDL Board of Trustees represent 27 communities throughout Kent County. Major duties include establishing and maintaining a public library for Kent District Library, establishing library policies, employing the Library Director, adopting an annual budget, and approving the expenditure of funds. Board meetings are typically held the third Thursday of every month; times and locations are posted at www.kdl.org.