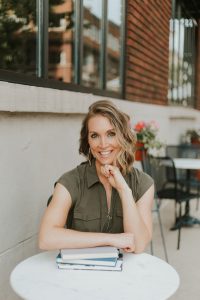 Name: Kimberly Straub 
Home Branch: Wyoming
How long have you been a KDL Patron? 3 years
What is the last library book you read or movie you watched? Crime and Punishment by Fyodor Dostoevsky 
What is your favorite thing about KDL?
I've always wanted to be a writer but dragged my feet, telling myself that I needed a "sign" to begin. Almost immediately, Kent District Library announced a series of free writing workshops hosted by Peninsula Writers. I signed up for every class and soaked up every bit of useful information and encouragement. But I still insisted on needing more assurance that my dream was worth pursuing.
Shortly after, the Write Michigan Writers Conference was announced. Every presenter, as they gave useful and insightful information, referred to us as writers. I felt the title was undeserved since, besides all my note-taking, I hadn't written anything. But between the workshops, the conference and a writers' group that I discovered through KDL, I've come to realize that I don't need to publish anything to call myself a writer. I have a dream and a drive which is more than enough. And whenever self-doubt rears its ugly head, I know I can fall back on the community I've met through KDL to keep me going...and writing.