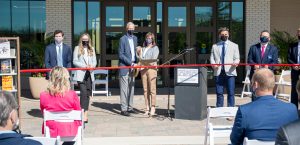 The Amy Van Andel Library – Ada Community Center was officially dedicated Thursday morning with a ribbon cutting and recognition of this important community gathering space. Self-guided tours of the facility are available to the public throughout the weekend.
The two-story, 25,786 square foot facility is located at 7215 Headley St. SE, in the heart of downtown Ada. The building houses both the Amy Van Andel Library, which is managed by the Kent District Library (KDL), and Ada Township's new Community Center, which offers multiple rooms and spaces for small scale meetings and gatherings. The building was designed by the architecture team of Progressive AE of Grand Rapids and built by Ada-based Erhardt Construction.
"My Grandmother instilled in me a lifelong love of reading through our weekly library visits. It's been a dream come true to honor that legacy by helping to build a library here in Ada," said Amy Van Andel. "It is my hope that this becomes a place for our community not only to gather, connect and learn but also to create memories of their own for generations to come."
The new facility completes the six-year work of Ada Township's Envision Ada Campaign. The Campaign raised nearly $14 million with residents, area businesses, Ada Township and the Township DDA all contributing. The Campaign included the building of Legacy Park In Memory of Helen and Rich DeVos, located along the Thornapple River, and the Amy Van Andel Library – Ada Community Center facility.
"The Envision Ada process has brought out the best in our community, a public and private partnership focused on fitting the right pieces in the village area in order to bring people together and engage families in outdoor and learning experiences," said Ross Leisman, Ada Township Supervisor.
The Amy Van Andel Library marks the 20th Kent District Library branch. Affiliation with KDL affords Ada residents access to the entire KDL collection of more than 1 million items. The library is also a community place with features designed for families, individuals and children and offers multiple spaces for studying and working. Additionally, there are two dedicated Ada Community Center meeting spaces that offer options for groups of up to 75 people and feature onsite technology and Wi-Fi.
The interior is filled with sunlit spaces and views of the entire Ada village area bringing a brilliant feeling of the outdoors to the inside of the building. In addition, there is a 3,000-square foot outdoor central courtyard surrounded by two stories of glass. The courtyard features seating and introduces guests to "The Reader," a stainless-steel sculpture by German sculptor Julian Voss-Andreae.
The library also includes:
A large children's area on the first floor that has more than 7,000 colorful books and media, which are set up at eye level for kids. This area includes WonderKnook, an interactive play space designed to encourage  learning through discovery and exploration. The Amy Van Andel Library is one of four KDL locations piloting this new program.
An adult section on the upper level which features a living room with comfortable furniture, a striking fireplace and a wide variety of book/media selections. The adjacent teen section provides a welcoming environment with low-slung couches and chairs.
Tutoring areas - An enclosed tutoring center offers a conference room for larger groups and three smaller rooms for individual tutoring. Each space has a whiteboard for brainstorming and collaboration and tables are outfitted with easy access to technology charging.
KDL Core Collection - This curated collection made its KDL debut at the Amy Van Andel Library and features 100 titles that represent the most loved books among patrons across the KDL system. The collection evolves over time, reflecting what readers are currently enjoying.
Podcast room - Located on the second floor, this podcast studio features state-of-the-art recording and broadcast technology and allows for both podcast recording and live streaming. The room is available to be reserved for public use.
"We are excited to have the community come in and enjoy everything the new library has to offer," said Lance Werner, Kent District Library Executive Director. "It's an honor to partner with Ada Township for our 20th KDL location and to become part of this new legacy in Ada."
Building hours can be found at www.kdl.org and currently capacity is at 50% per state guidelines.