The Next Nexus: Small Business Expos are opportunities for small business owners and aspirational entrepreneurs to network, access resources and gain insight from experts. Our panelists will discuss topics including securing capital, staffing and retention, and other business essentials.
Watch our past expos online:
June 18, 2020: Paycheck Protection Plan for Local Businesses with Wayne Titus from AMDG Financial
June 25, 2020: Support Your Local Economy with Hanna Schulze Executive Director, Local First
July 9, 2020: Policies Affecting Small Businesses During COVID-19 with Marta Johnson from American Sustainable Business Council
July 16, 2020: How Neighborhood Associations are Stepping Up to Help Communities with Fran Dalton from Garfield Park Neighborhood Association
July 23, 2020: How to Apply for Relief Funding Through the Small Business Administration with Ed Gardner from Small Business Development Center West Michigan Region
July 30, 2020: Understanding Where and How to Get Help with Jorge Gonzalez from Start Garden
Aug. 6, 2020: Don't Hustle Your Business, Hustle FOR Your Business with Jamiel Robinson from Grand Rapids Area Black Business
Aug. 13, 2020: Support Local Farms and Food Produce with Dana Eardley from Fulton Street Farmers Market
Who should attend?
Small business owners, dreamers and community organizers who are looking to learn and strengthen relationships to help keep local business thriving.
Agenda
6:45 PM: Guests sign in
7:00 PM: Livestream of expo
7:30 PM: Networking
Our speakers
Work as a neighborhood organizer at GPNA involves building collaborations with community stakeholders and acting as an advocate for the GPNA constituents. This advocacy entails developing an awareness of the wants, concerns and needs of its neighbors and acting a resource in achieving positive outcomes.
Fran has worked at GPNA for nearly 10 years. Her prior employment experience is over 35 years working in human service programming in government and the nonprofit community.

Dana attended Grand Valley State University in pursuit of an interdisciplinary degree in community food systems. Throughout her undergraduate career, Dana worked with Access of West Michigan, Local First of West Michigan, Baxter Community Center, the Sustainable Agriculture Project at GVSU, the YMCA and the Kent County Food Policy Formation Team in order to better understand our food system here in Grand Rapids. Dana has participated in food systems trainings in Detroit, Vermont, India and Cuba in hopes of better understanding how our state, national and global food systems are interconnected.
Dana currently spends her days supporting vendors and customers at the Fulton Street Farmers Market. There, she enjoys exploring the ways that the market can expand its reach and continue to serve as an anchor for our local food system. Everyone deserves the right to healthy food and Dana is proud of the fact that the market plays a strong role in promoting food access for our community.

Ed Garner serves as the regional director of the West Michigan Small Business Development Center. He previously served as president/CEO of Muskegon Area First, a private, nonprofit corporation serving all of Muskegon County. Garner is currently the board president of the Urban League of Greater Muskegon and the board treasurer for the Muskegon Area Intermediate School District.
During his career, Ed has been recognized for having the best Satellite Small Business and Technology Development Center in 1999 and the Jaycees Distinguished Service Award in 1998. Garner has a master's in business administration from Western Michigan University and bachelor's in engineering from Michigan State University.

A Grand Rapids native holding a degree in public administration and minors in both business and sociology from Grand Valley State University, Jorge joined the Start Garden team in 2017 from his time spent as executive director of the West Michigan Hispanic Chamber of Commerce (2015-2017).
His involvement with the Hispanic Chamber began with the inception of the organization. Gonzalez established it as a central connecting point for Hispanic entrepreneurs in West Michigan, both for aspiring business owners and seasoned veterans. 
Prior to that, he was at LINC UP as the director of economic development for five years and has 15 years of experience in the banking industry. His last banking position was as vice president of community development from 2005 to 2010.
In his spare time he enjoys running, occasional golf, spending time with friends and family.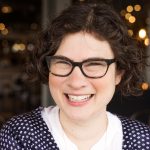 Marta Johnson is the state coordinator for the American Sustainable Business Council in Michigan as well as a the startup founder of Tree Shrugger, a social enterprise. In her role at ASBC she is developing partnerships with other business organizations and leaders across the state that share a vision for a more broadly prosperous economy centered around equity and sustainability. She brings more than a decade of experience working on environmental protection, policy advocacy, and social enterprise development.

Jamiel Robinson is a serial entrepreneur and the founder and CEO of Grand Rapids Area Black Businesses (GRABB). GRABB is an economic development enterprise that focuses on fostering an economy that supports the revitalization of the Black community and expands opportunities for Black entrepreneurs in the metro Grand Rapids area by promoting economic empowerment and equity.
Jamiel is also the co-owner of Motu Viget Spirits, a premium wine and spirits company, and part of the team bringing Ambiance GR Kitchen & Lounge to downtown Grand Rapids.
To date Robinson has been recognized as a leading voice in West Michigan on economic equity with feature articles in Crain's Detroit, The Guardian, Grand Rapids Business Journal, The Grand Rapids Press and Grand Rapids Magazine. Robinson was named by the Grand Rapids Chamber of Commerce as one of 30 extraordinary leaders over the past 30 years, Grand Rapids Business Journal's 40 under 40 Business Leaders and its inaugural class of the Grand Rapids 200: The Most Powerful Business Leaders in West Michigan.

Hanna is a graduate of Grand Valley State University and has worked for Local First for over seven years. Her enthusiasm for all things local stems from her father, who worked hard to open his own business, and extends into her love of her neighborhood, for which she serves as President of the Garfield Park Neighborhood Association. Hanna's work in economic development has led her to be involved in neighborhood and city-based planning efforts, where she voices the need for developers to consider the needs of the community they will be investing in, as well as the opportunity for economic growth, through engagement and authentic involvement of neighbors in all stages of the planning process.
Hanna is passionate about advocating for a place-based, sustainable economy where wealth can be accessed and accumulated by all people.

For Wayne Titus, working with clients means helping them understand their financial situations so they can become good stewards of their money. Wayne founded AMDG Financial and AMDG Business Advisory Services, PLC, in 2002 after more than 15 years in management at two large accounting firms, working with Fortune 50 clients. "While I loved the experience, I was looking for something more," says Wayne. "Owning my own tax and advisory firms enables me to share what I've learned with my community, while at the same time, honoring my personal values of entrepreneurship,  family and civic involvement."
Wayne's love of entrepreneurship was the impetus for his book, The Entrepreneur's Guide to Financial Well-Being. Drawing on his personal experiences and professional background, he walks entrepreneurs through finding and building a dependable, communicative relationship with an adviser who has a holistic viewpoint.
A fee-only, fiduciary adviser, Wayne is committed to placing his clients' interests ahead of his own, or those of the firm. In fact, AMDG Financial was one of the first 10 firms globally to be certified by the Centre for Fiduciary Excellence. The certification recognizes AMDG's adherence to global best practices for investment adviser fiduciaries.
Wayne holds a bachelor's in accounting from the University of South Florida, a bachelor's in business administration from Grove City College in Pennsylvania, and a master's in employee benefits law at the John Marshal Law School in Chicago. An active member of the community, Titus serves as chairperson of the Michigan Association of Certified Public Accountants' Financial Literacy Task Force, and a member of MICPA's Tax Reform Study Group, through which he chairs the group's education committee. Wayne is also a member of Rotary International, where he was elected to serve during 2015-16 as District Governor for Rotary District 6400.