Welcome to our WonderKnook playspaces!
Click on the WonderKnook map image for a larger view and begin your journey!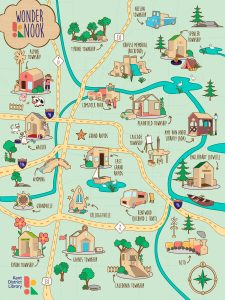 Each of KDL's 20 branches are dedicated to child-centered and interactive play supports healthy growth and development. All WonderKnooks feature a custom designed piece reflective of the unique communities within Kent County to encourage imaginative play, and loose parts play to encourage the participation of adult caregivers, leading to rich language interactions. Loose parts are inclusive as children assign meaning to the objects, bringing their own family cultures into their imaginative play. KDL is proud to make a positive investment into children whose formative years were spent in the height of a global pandemic, thus impacting their social and emotional health, with an organizational philosophy to support children's early learning through play.
As you step into our new WonderKnook spaces with your child, a niece, nephew or grandchild, or the child of a friend or neighbor, we hope you find that curiosity and wonder live there, that every new discovery sparks imagination and that every visit encourages a lifetime of learning and exploration.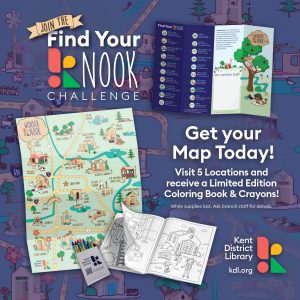 Find your favorite Knook today! Drive a fire engine at Comstock Park, toast imaginary marshmallows at Camp Spencer, row the canoe at the Englehardt Branch in Lowell, serve up tacos at the Kentwood Food Trucks and more! Ask your favorite librarian today for a WondeKnook Map and collect a sticker for each visit. Visit 5 branches and win a coloring book illustrating all twenty custom WonderKnook pieces so visitors can reflect on the fun and learning they shared. 
Join in on the buzz! Here's what people are saying!
"I like how accessible it is, safety-wise. My new walker confidently walked right through the bridge!" Denise, caregiver
"The kids' area at Ada is great for imaginative play! Kids make up their own stories, playing both together and independently. And the new play piece is exciting!" Michelle, parent and former teacher  
"The play area is great for multi-age families. All kids love forts and structures to play in. I also love the open design." Terri, parent 
"My kids adore the new Ada Bridge playspace! The design is eye-catching and whimsical, yet simple enough for a child to use their imagination. During our short visit, the bridge became a house, a unicorn stable and even a puppet studio. I'm sure it will be put to use by many creative young minds for years to come." Becca, parent  
"I've seen marvelous storytelling through play, especially with puppets and loose parts. Blocks become food for animals or building materials for habitats and more! Imaginary fishing off the covered bridge began immediately in our new playspace." Liz, Librarian at the Amy Van Andel Library