KDaLe is a chance to interact with local brewers and learn about the industry while tasting some delicious beverages.
All KDaLe programs are for ages 21 and up.
New this year is KDaLe Quest! To complete the quest before it ends on August 31, you'll need to download the Beanstack App (for Android or iOS) and visit the participating breweries to find the answers to each location's question (which can be found in the app).
---
Cedar Springs Brewing Company, one of our KDaLe Quest partners. The brewery is located at 95 N Main, Cedar Springs, MI 49319.
We'd love to introduce you to
Tell us a little about your history.
We are the regions first dedicated German brewer since Prohibition. Founded in 2013, we feature historical German styles brewed with four all-natural ingredients to accompany our Bavarian and American pub menu.
While all of your drinks are amazing, which one is head and bubbles above the rest?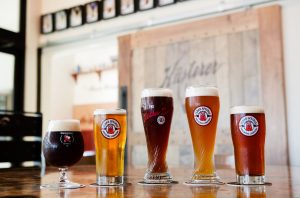 Our authentic Küsterer Original Weissbier is a Bavarian style wheat ale recipe that dates back nearly six centuries. Featuring hints of nuttiness and banana nut bread, this style also appeals to many people who do not normally drink craft beer and has earned over 20 national and international brewing awards competing against German and other international beers. There's nothing else like it.
What is your brewmaster's favorite book? Why?
Charlie Papazian's Joy of Home Brewing. It belongs in every brewer's library.
What sets you apart from the other breweries in Beer City, USA?
In short, we are brewing your great, great grandparent's beer. These are enduring styles that have lasted centuries for a reason and contain only four, all-natural ingredients. We are German Tradition, crafted in Michigan.
Don't miss the opportunity to take the KDaLe Cedar Springs Brewing Company Tour on Wednesday, January 18 from 6:30 - 7:30 PM.