KDaLe is excited to present the fifth annual "Book-Inspired Brewing" home brew contest! Imagine taking your favorite book, shoving it into a carboy and letting the magic of fermentation turn it into liquid literature gold. Kent District Library, in collaboration with Gravel Bottom Brewing, opens a new window, Railtown Brewing, opens a new window, Broad Leaf Beer, opens a new window and Pike 51, opens a new window, is calling on home brewers to enter this unique competition: creating a beer inspired by your favorite titles or authors.
The top four brewers will get a chance to brew a scaled-up version of their winning beer with professional brewers at either Gravel Bottom Brewing, Railtown Brewing, Broad Leaf or Pike 51, to be released sometime next summer. (Date and place to be determined.)
Judging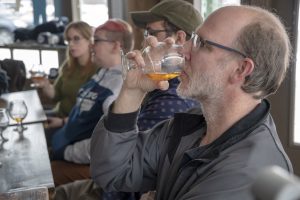 In addition to being judged on flavor, aroma, mouthfeel and appearance, your beer will be rated based on how well it fits the theme (Book-Inspired Brewing) and the story behind it.
Judging will be done with a panel of Gravel Bottom, Railtown, Pike 51, Broad Leaf and KDL staff, along with local home brewers and other industry professionals.
How the beers are scored:
Inspiration (theme connection, creativity, etc.): 15 points
Mouthfeel: 10 points
Aroma: 10 points
Flavor: 15 points
Appearance: 5 points
Need some brewing inspiration? Check out these book/brew combos:
James and the Giant Peach Gose: This peach gose was the winning beer in Year 1! It hit all the right notes of quality in a beer, mixed with a phenomenal story tying the beer and brewing process to the story.
Where the Tart Things Are – This was Year 2's winner.  A guava Berliner weisee inspired by none other than Where the Wild Things Are by Maurice Sendak. After a few sips you'll be shouting, "I'll drink you up!"
Harry Porter and the Goblet of French Toast – One of our Year 3 winners. One sip of this magical beer and you'll be wingardium leviosa-ing yourself to the kegerator to keep your glass full at all times and shouting "Expelliarmus!" at any muggles who manage to get their hands on this enlightening elixir. Although it isn't a polyjuice potion, when the notes of coffee, vanilla, cinnamon, and maple all combine, your senses will be transfigured. If you do finally make it to the bottom of the glass, you'll feel like you've won the TriWizard Cup.
Or take inspiration from your favorite author:
Poe Stout: A dark and bitter brew guaranteed to put you on edge.
Kinsella Cider: Light and bubbly, crisp and sweet, this cider is best shared with friends and over good stories.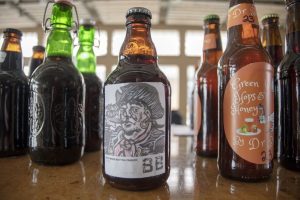 Key Dates
Feb. 7, 2020: Deadline to sign up (the first 50 entrants will be accepted)
Feb. 29, 2020: Deadline to submit your three 12-ounce bottles
March 2-8, 2020: Judging
March 9, 2020: Winner announced
Late Spring/Early Summer: Brew Day, to be worked out with breweries after winners are selected.
TBD: Beer release party
We also have a series of KDL aLe programs planned for every month through March.
Registration
You will be asked to provide your:
Team name (if applicable)
Name(s)
Contact phone number
Contact email
Register online or call 616-784-2007. All entries are due by Feb.7, 2020.
Submission
After registering, beers must be submitted at one of these three locations by Feb. 29, 2020:
Three 12-ounce bottles will be required at submission. They will need to be labeled with your entry number, which will provided to you after registering.
Please include a page with the recipe, beer entry number and a brief statement about how your beer fits the theme of "Book-Inspired Brewing."
Restrictions
Please do not use nuts.
Due to time constraints, please no pilsners nor lagers.
No barrel-aged beers.
No beers with added alcohol (i.e., tinctures, chips soaked in spirits, etc.)