Puppets help us engage with, teach and entertain our young patrons. They also bring about a lot of joy and laughter!
Watch the puppets in action!
Why do we use puppets?
"Puppets are another way to speak in third person. I remember the first time I brought a puppet to my mentoring session with my eight-year-old friend. It was silly in the beginning, as we explored together the mechanics of how to move the mouth and the arms and to position the puppet in a way that would connect with the audience. But quickly, we went from a technical conversation to an animated dialog about life — what makes us afraid or happy and what we do when we feel anxious. It seemed like this effortless conversation had been waiting to surface for a long time and it felt natural, free and full of insight. I was surprised at how speaking about ourselves in third person can give us the language and the courage to say things that otherwise felt heavy and weird.
Puppets have a way of doing this. They can be less intimidating, and they embrace the silliness of the moment, giving others permission to be themselves and feel fully accepted. I believe that puppets are like a bridge between our inner self and the persona we have created. Puppets open us up; that is why we use puppets in the library!"
Sara Proaño | Community Engagement Manager
"Puppets create a sense of wonder and awe. Whether in person, or live (but virtual), or in recorded form, puppetry opens up windows of excitement, joy, playfulness and so much more. As a puppeteer, I'm able to explore a range of emotions and a variety of personalities I would not achieve as a human. Children (of all ages!) are pulled into a world of imagination, thus realizing the unlimited options of where it can all go…"
Kevin Kammeraad | Bookmobile and Virtual Services Operator
What do we do with the puppets?
We create excitement and spark interest, both online and in-person.
Wimee's Words is a collaboration between KDL, Wimage and various partners. It is a virtual program that inspires kids to learn through creativity and play. Viewers join Wimee and friends (both puppets and humans) for wacky wordplay, silly songs and playful conversation in an interactive show that anyone can play along with (and learn a lot along the way)! We partner with the Michigan Learning Channel and various PBS stations around the country, including West and Southwest Michigan's own WGVU, to bring the content to an even larger audience.
Curi joins us each summer, both featured in print media and seen in many videos. She promotes in-person events and activities and is featured on a 10-week LIVE virtual program called The Stay Curious with Curi Show.
Moby is known to be seen around the Bookmobile, at events and also generating interest in upcoming KDL events.
Lucy is the newest addition to the team, ready to join Wimee and friends, but even more excited to celebrate a love of books.
Meet the Puppets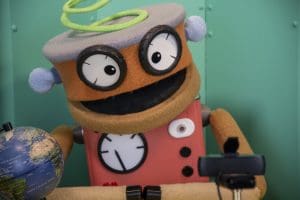 Wimee is a lovable robot (technically, a robot puppet) who enjoys spontaneously singing, using his imagination, making new friends and learning new things — all on his interactive live-stream show Wimee's Words! Wimee has the kindness and leadership qualities of Kermit the Frog, and the excitement and awe of Grover. He loves learning new things and exploring new ideas, and everything he does is with excitement and good-natured openness. His favorite thing in the world is creating stories, especially when his friends help him. He is funny, playful, imaginative, positive and always full of wonder.
Watch Wimee Online   What is Wimee's Words?
First built and designed (Wimee 1.0) by Joseph Emory, Kevin Kammeraad and Michael Hyacinthe, then rebuilt (Wimee 2.0) by Conner Asher, and then upgraded (Wimee 2.1) by Kevin Kammeraad, Nick Reider, Russ Taber and Pam Groom. Whew, technology is a process!
---
Moby is an enthusiastic bird who loves to read, loves to learn and LOVES to share. Moby is the head of research on Wimee's Words, and is also Wimee's best friend. Moby is super excitable and can't resist spouting fun facts. Everything and anything, from submarines to dirt, will get Moby energized to learn and wonder!
Moby on Wimee's Show   Moby Promotes LEAP
Built by David Manley
---
Siblee is an off-the-wall inventor robot who, behind-the-scenes, is always rolling and zipping around. He is continuously coming up with crazy inventions and technical doo-dads. Siblee mainly works out of his laboratory garage and thinks in such a unique way that he sometimes sounds silly ("That's it! I'll reverse the polarity of my toaster to make dough!"). For this reason, he's a natural host for Laughing with Siblee.
Designed by Kevin Kammeraad and Pam Groom, built by Pam Groom
---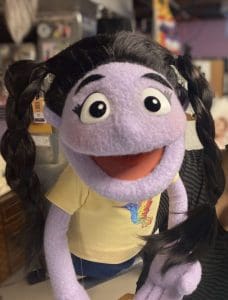 Lucy is a fun-loving Latina girl who loves spending time with friends, learning about them through books and stories and exploring the world together. Lucy lives in the library and is part of the Bookmobile team. She speaks both English and Spanish and likes to sing in both languages, too!
Designed by Pam Groom and Sara Proaño, built by Pam Groom
---
Curi simply LOVES helping people learn about (and enjoy) Science, Technology, Engineering, Art and Math! She always loves to learn about new things and feels every day is an opportunity to find something wonderful. She shares her knowledge with anyone who will listen! Last summer, she was delighted to hear about people "finding her" at various Kent County Parks in her first Curi Scavenger Hunt. She can't wait until Summer 2022's Summer Wonder program. Oh, and if you're looking for a new recipe, she'd love to share her recipe for Banana Butter Cups!
Designed and built by Joseph Emory, Brad Baker and Kevin Kammeraad
---