In response to COVID-19, Kent District Library is taking several steps to protect our staff and the general public – in particular the high-risk populations we serve and the high-risk populations who work and volunteer for the library. This page contains the most up-to-date information pertaining to library services.​
---
Current Library Service Status and Preparedness/Response Plan
Kent District Library resumed in-branch hours on Tuesday, January 19, welcoming the public back inside the library. Patrons are invited to browse the collection and enjoy other library resources inside, in addition to having the option for curbside service. Read this blog post for further details.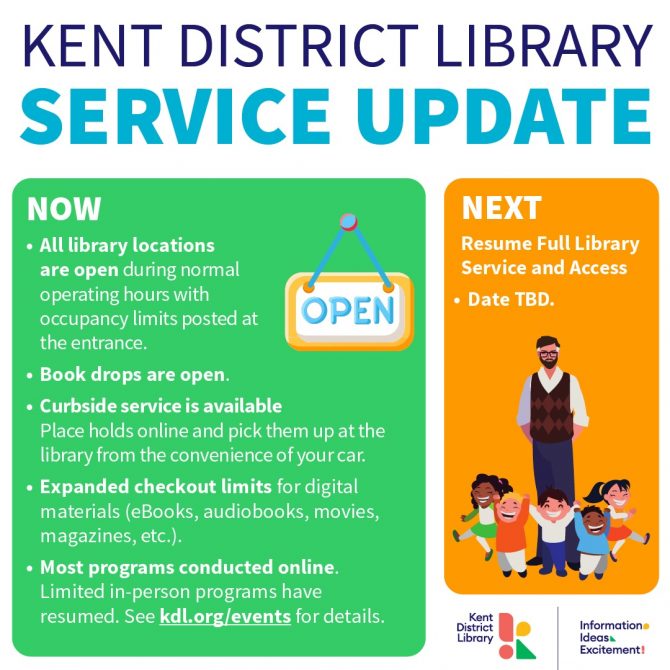 How to Checkout Materials with Curbside Service
Request Curbside Printing Starting Aug. 7
FAQ: COVID-19 Preparedness and Response Plan
---
Use KDL Online
In the meantime, KDL continues to provide many digital services available to you remotely and for free, such as eBooks and eAudiobooks; streaming TV, movie and music services; and digital subscriptions to newspapers and magazines. These are all available online:
Contact Library Staff via Online Chat
Get a Library Card to Access Online Resources
---
COVID-19 Information You Can Trust
Sharing accurate information from trusted sources is crucial. Following are several recommended sources:
Free Virtual COVID-19 Screening
Centers for Disease Control and Prevention (CDC)
Coronavirus Fact Sheets (Michigan Department for Health & Human Services)
Situation Reports (Johns Hopkins Coronoavirus Resource Center)
Additional Resources