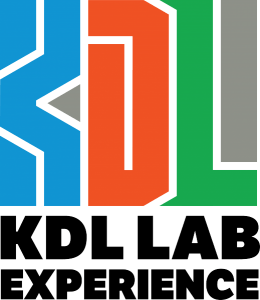 KDL LAB Experience is a collaboration of programs and services for children that promote creativity, problem solving skills and unstructured ‭time to explore. ‭KDL LAB Experience can take the form of interactive space in ‭our branches, or may be a hosted program. Carefully selected learning tools and activities are ‭designed to help school-age children and teens increase their proficiency in ‭STEAM (Science, Technology, Engineering, Arts and Math) disciplines. While library staff ‭are not experts in these fields, they serve as facilitators; troubleshooting as needed but mostly guiding participants in their KDL LAB Experience.
Creation of KDL LAB Experience‬‬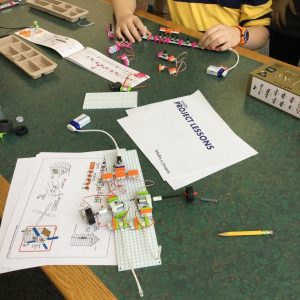 Launched in 2014, KDL LAB Experience ‭programs supplement formal education. Student-driven projects are aligned with schools' curriculum based on each component of STEAM, offering children the unique opportunity ‭to relate what they learn in class to firsthand experience of applying concepts in real ‭life. While children are drawn in by cool new technology; working with tools like the 3Doodler and littleBits ‭kits, fosters the ability to troubleshoot, analyze and ‭problem solve. ‬‬‬‬‬‬‬‬‬‬‬‬
According to the Organization for Economic Co-Operation and ‭Development's 2012 Program for International Student Assessment, ‭510,000 students representing 65 countries across the globe were ‭examined in math, science and reading. Falling far behind countries like ‭China, Japan, South Korea and Canada, the United States ranked 36th ‭in math, 28th in science and 24th in reading. By offering fun, hands-on project-based learning designed to ‭encourage curiosity and life-long learning, specifically in the STEAM disciplines, KDL is part of the solution that helps our children rise to the top!‬‬‬‬‬‬‬‬‬‬‬‬
How is KDL LAB Experience funded?‬‬‬
KDL LAB Experience was launched with an initial grant from Consumers Energy. Equipment is added or replaced using a combination of KDL programming funds, grants, and donations from both individuals and Friends of the Library groups.‬‬
What ages are KDL LAB Experience for?‬‬
Most KDL LAB Experience activities are geared toward elementary and middle school students. However, some equipment, such as sewing machines, require a person to be at least 14 years old to participate.  ‬‬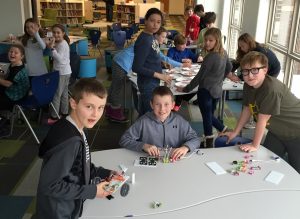 What should I expect when I attend a KDL LAB Experience?‬‬
Based on the activities, ‭projects offered and staff facilitators, each KDL LAB Experience is different. You ‭should expect a collection of different activities that all relate to a ‭specific STEAM concept or idea. Activities are selected to align ‭with the State of Michigan School standards and allow for creativity, ‭tinkering, problem solving, collaboration and time to explore. What you should not expect is a project where everyone creates the same thing!‬‬‬‬‬‬‬‬‬‬‬‬
How do I find a KDL LAB near me?‬ 
To find a KDL LAB Experience near you visit any KDL Branch and ‭pick up a branch calendar or a seasonal KDL Kaleidoscope. For a complete list of KDL LAB experience programs, visit our Events page and search for "KDL LAB." ‬‬‬‬
What KDL LAB Experiences are offered?
Below is a sampling of some of our KDL LAB Experience programs. Note that not all of the programs below are offered each season, nor are they at every KDL branch location.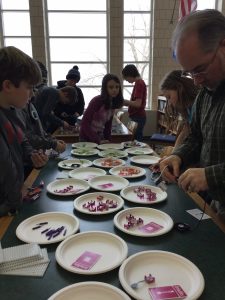 Building up STEAM for Fun and Discovery
Design Like Da Vinci
Forensic Science Detective
Get Revved Up
Girls Changing the World
Keva Planks
Let Loose with Lincoln Logs
Light Up Your Life With Paper Circuits
littleBits -- Learn and Invent with Electronics
Music Exploration with Otamatones
Robot Rumble
Scratch Programming Club
Shrinky, Strectchy and Silly Science
Snap Circuits -- Fun with Simple Electronics
Straw Building Bonanza
Take it Apart followed by Make It with Parts
Weather or Not