Kent Intermediate School District provides adults age 18 and older opportunities to pursue their GED, Career Tech Education or develop their skills in the English language. Courses are offered in:
English as a Second Language
Adult Basic Education
High School Equivalency
Career Technical Education
Follow Kent ISD on Facebook, opens a new window for class listings and locations. Register in person at any location.
Sparta Adult Education provides the following free services in a classroom setting in many areas of Kent County for adults age 18 and older:
Sparta High School diploma 
GED (high school equivalency)
English as a Second Language 
Adult Basic Education 
Adult Secondary Education 
Career coaching
Register online, opens a new window; classes run year-round with open enrollment. Call 616-887-7321 for more information. Follow Sparta Adult Education on Facebook, opens a new window!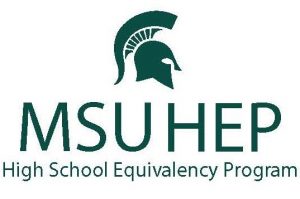 The High School Equivalency Program (HEP) is a secondary education program designed for migrant and seasonal farmworkers. The objective of HEP is to prepare them to obtain a High School Equivalency Certificate through the General Educational Development (GED). We support them in their academic, vocational and personal development, seeking to obtain the confidence and preparation necessary for Higher Education or the exploration of new labor challenges.
El Programa Equivalente a Educación Secundaria (HEP) es un programa de educación secundaria diseñado para los trabajadores agrícolas migrantes y de temporada. El objetivo de HEP es prepararlos para lograr obtener un Certificado de Equivalencia de Estudios Secundarios a través del General Educational Development (GED). En este camino, los apoyamos en su desarrollo académico, vocacional y personal buscando que obtengan la confianza y preparación necesarias para la Educación Superior o la exploración de nuevos desafíos laborales.
Rockford Adult Education provides adults 18 and the following free services:
Rockford High School diploma
GED preparation
Adult Basic Education
Rockford Adult Education follows the regular schedule of Rockford Public Schools. Register in person at the main office, or contact Jennifer Thompson at 616-863-6325 ext. 5251.
The Hispanic Center of Western Michigan, located at 1204 Cesar E. Chavez Ave. SW, Grand Rapids, MI 49503 offers the American Council of Education GED courses in Spanish. Classes are offered in person at regular intervals throughout the year. Call 616-742-0200 for a schedule of upcoming classes. Follow the Hispanic Center of Western Michigan on Facebook for more information on services and resources.
The Literacy Center of West Michigan provides basic language and literacy instruction to adults, both native speakers of English and non-native speakers of English. Our programs meet learners where they are, offering one-on-one tutoring, classes, and family literacy opportunities at no cost to the learners. Call 616-459-5151, email info@literacycenterwm.org, or follow them on Facebook for more information.

Success for struggling and dyslexic individuals, as well as reading, writing and math tutoring for children and adults. Call 833-229-1112 or email info@readingsuccessplus.com for more information.
The Refugee Education Center is a Grand Rapids based nonprofit organization supporting refugees in their journey to become full participants in the West Michigan community through a variety of programs including education and career programs for students aged 0-3 and K-12 and their parents. Call 616-247-9611 or email info@refugeegr.org for more information. 
Define your goal. Achieve your dream!
The Education Opportunities Center (EOC) team at Grand Rapids Community College offers free services to help eligible adults explore education and career options.
Connect with the EOC to access career exploration workshops and academic counseling, tutoring, mentoring, personal counseling, and financial aid and economic literacy workshops.
EOC staff will help you complete your high school diploma or equivalent, your college application and admissions processes to any college or university, and the Free Application for Federal Student Aid (FAFSA). Call 616-234-3399 or email eoc@grcc.edu for more information. 
Start preparing for your driver's knowledge exam online.  Includes practice tests in English and Spanish.